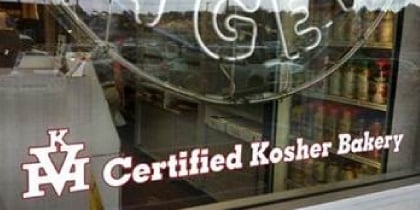 Life's a Bagel
Life's a Bagel in Canton, MA is home to the most delicious bagels on the South Shore. Life's a Bagel is fully kosher, under the strict supervision of the KVH. Bagels are baked fresh daily and are certified  Pas Yisroel. Life's a Bagel also served coffee, baked goods, and a variety of fresh cream cheeses and lox. The dairy products at Life's a Bagel are certified Chalav Stam.
Want to taste these delicious bagels?
Come to our Sunday morning minyan at 8:00 AM which is followed by a free kosher breakfast of bagels, lox, coffee and other treats.
Location:
Life's a Bagel is located in Cobb Corner (near Ames Hardware and Zayde's Market) which is about a half-mile from Shaloh House.
Life's a Bagel
29 Washington Street
Canton, MA 02021
Hours:
Sunday: 6 AM - 2 PM
Monday - Friday: 6 AM - 3 PM
Contact: